Houses and flats that are many years old frequently have obsolete kitchen and bathroom décor painted in dark colours and featuring old-fashioned decorations, which detract from the brightness and give the rooms an old-fashioned feel.
Furthermore, the kitchen and bathroom are two rooms that play a fundamental role in people's daily lives, being dedicated as they are to well-being and personal care, meaning that their decoration hasa direct influence on our mood and motivation.
At Pinturas MONTÓ we want to help you improve the appearance of your kitchen and bathroom with much more modern, luminous décor.
Paints for tiles from Pinturas MONTÓ:Acripol Esmalte
This tile paint is characterised by its high adhesion,resistance to knocks and rubbing and washability, which means that you can clean the tiles without any danger of the paint chipping or degrading.
To guarantee a much more professional and highly decorative result, Pinturas MONTÓ also offers Acripol Enamel, a dual-component acrylic-polyurethane super enamel cross-linked with aliphatic polyurethanes that can meet even the most demanding decoration requirements.
This product offers different finishes:glossy, satin, metallic and matt.
In addition, old tiles sometimes have holes and cracks as a result of the passage of time. To solve this problem and leave the tiles looking good-as-new, before painting the tile you can use Plasmont al Uso Azulejos a putty for tiles and ceramics, which will provide effective anchorage on surfaces with little porosity.
Colours in tile paint
What colour can I choose to paint the tiles?
Although the predominant colour is white— as it brings abundant light and a feeling of spaciousness to a room — we at Pinturas MONTÓ can offer you not only various types of finishes but also a wide range of colours, meaning that you can innovate and opt for a different and minimalist type of décor.
For Acripol Enamel, you can consult our colour chart in our colour section.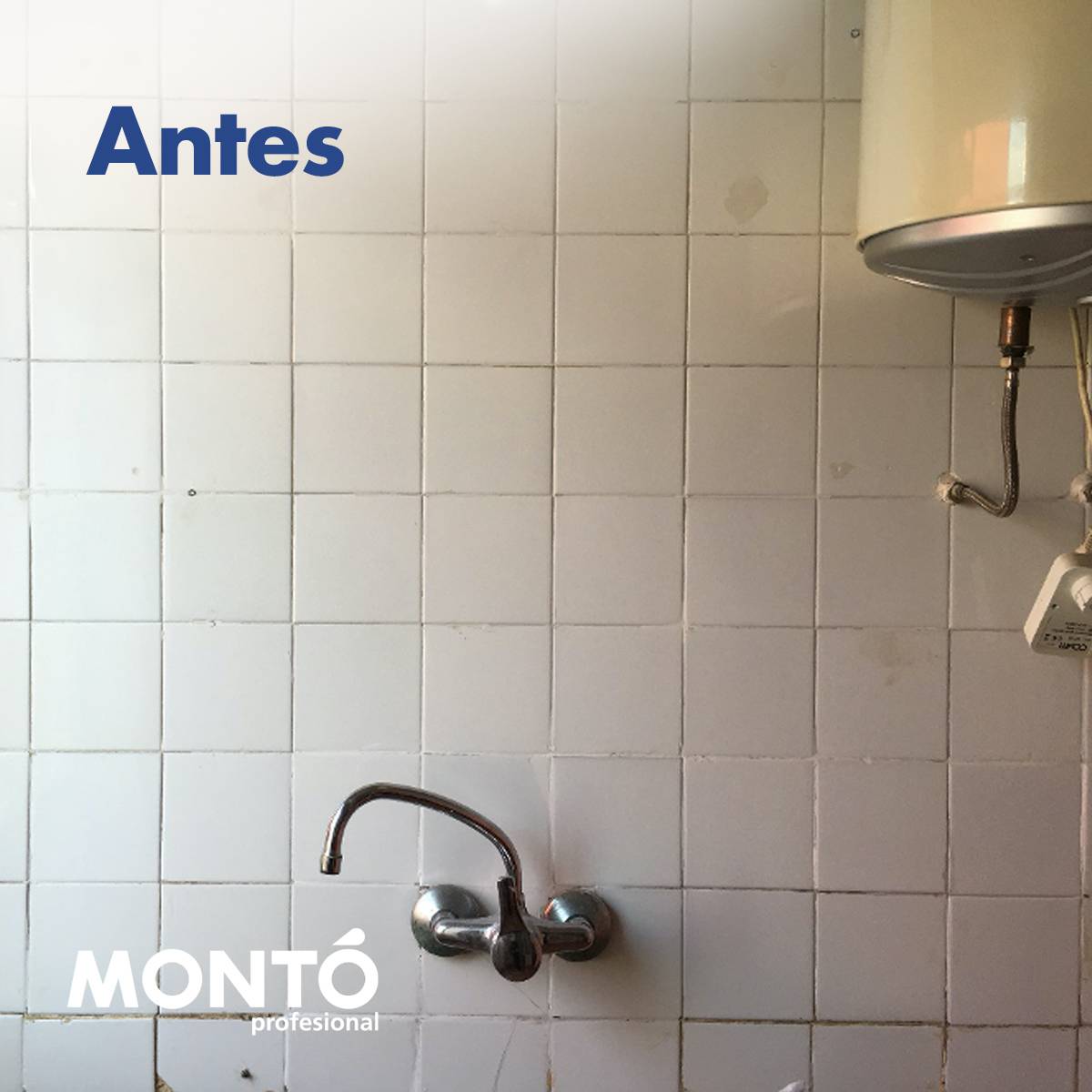 How to paint tiles with Acripol Enamel:step by step
Preparation
1. Before you start painting, it is essential that you prepare the surface well, clean the tiles thoroughly and remove any grease, dust and dirt. It is important to clean the tile joints with a brush and then remove any residues.
Recommendation: use soap and water for cleaning and avoid cleaners with silicones or wax.
2. Once they are clean you can carry out adhesion tests to ensure a good result,especially on large porcelain tiles. If the anchorage seems unreliable, trowel and/or sand the tile and remove any residues.
Application
3. In order to achieve better paint adherence and resistance, it is recommended to apply a coat of primer using Imprimación Epoxi Suelos.
4. Before starting to paint with Acripol, mix the enamel with the catalyst included in the product and stir until it is perfectly blended. There's no need to dilute the product, it's ready-to-use and has a maximum mixture life of 6 hours.
5. Apply the first coat of Acripol to your tiles using a glazing roller and a small brush to better reach any joints and raised areas. It can also be applied with a spray gun.
6. Allow it to dry (it should be touch-dry in 2 hours) and apply a second coat within 24 hours.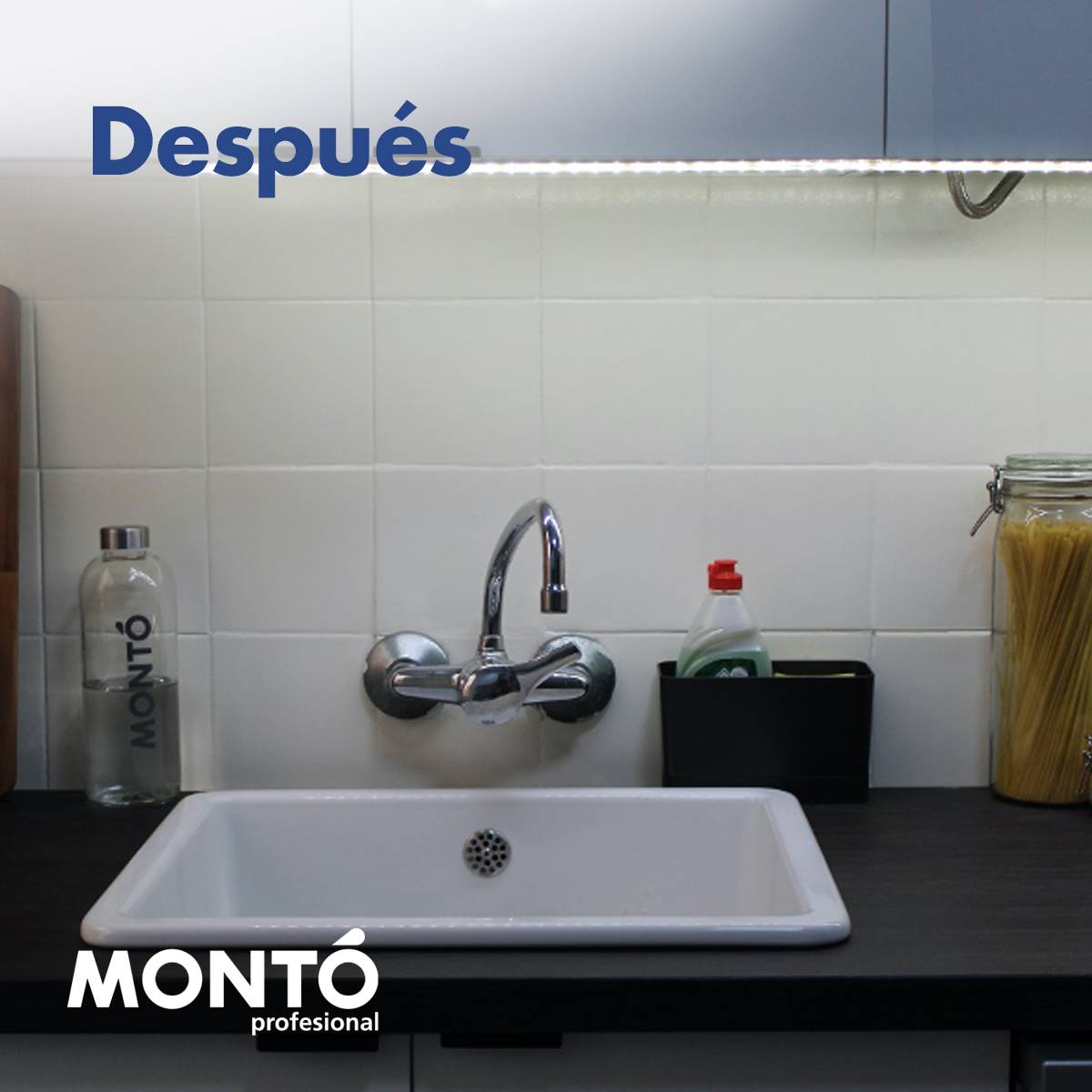 And that's it! You'll have a brand-new kitchen and bathroom with a small investment and no need for building work, noise or waiting time. The product can also be applied to showers and bathtubs.
Do you have any queries? You can contact us through the Customer Service Department on (+34) 961648339 or by filling in the contact form. We will be happy to help you with everything you need to make your project a reality.