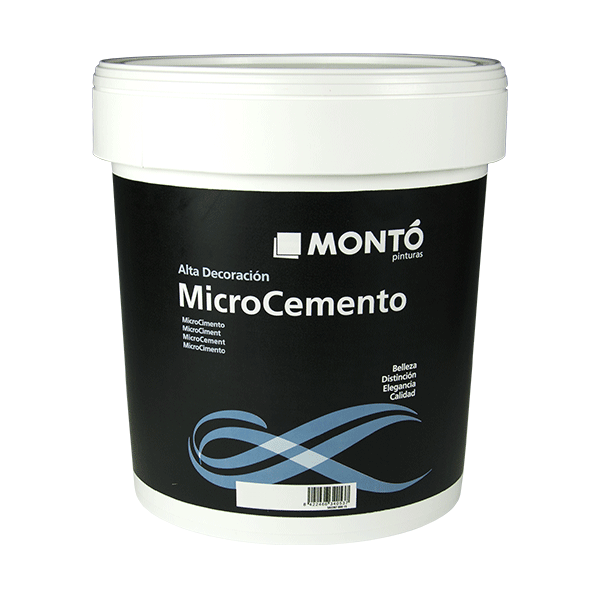 MICROCEMENTO ACABADO
Microcement system component.Fine finish coating, made from cement and exclusive polymers.Great decorative finish
applications
Plaster finishing
Cement
Porcelain stoneware
Fibre-cement
Stoneware
Without the need for complex and inconvenient works that cause noise, debris and dirt
How to apply?
Stainless trowel
Plastic Trowel
Colors
The product itself is white. The Montó Microcement system boasts a range of 39 colours that can be reproduced using the tintometric system
The ideal application temperature is between 5 and 30º C. This range must be maintained for the first 72 hours. Try not to apply in temperatures above 35º C to avoid the product drying out too quickly.
The materials must be prepared so that their temperature is within the temperature range specified above. If the Microcement Finish is very warm due to indirect sunlight, this could lead to problems due to loss of workability and premature setting.
Changes in ambient temperature during application also change the material's setting and drying times.
Preparing the mix:
Pour the 12kg bag of Microcement Finish onto the 5kg of resin that has already been transferred to the 15L container that comes with Microcement Finish in powder form. Add it little by little and beat slowly using a mechanical stirrer until you are left with a uniform, lump-free paste.
Apply in thin layers using a steel trowel. Apply 2 to 3 layers depending on the application, leaving 1 to 2 hours between coats until you achieve the desired effect. (This time may be adjusted up or down, depending on the environmental conditions at the time of application)Coverage per coat 0.
5kg/m2, in thin layers no thicker than 0.
2mm.
TOTAL coverage: 1-2kg/m2We recommend using a plastic/rubber trowel for applying Microcement Finish in white or very light colours.
After 24 hrs, lightly sand the entire surface with 400 sandpaper. Clean up all the dust produced.
Apply a protective layer of whatever varnish is recommended depending on the use of the surface.
. Microcement System varnishing and protectionThere are different products for this purpose depending on the use we want for the System. Follow the specific application instructions in each case. Barniz Pavimont Acqua Barniz Microcemento Range/Barniz Acripol Range Indoor flooring XX XXXOutdoor flooring XX XXX Barniz Barniz Cera Barniz Pavimont Barniz Micircemento Range/ Ladrillo Universal Estucos Acqua Barniz Acripol Range Kitchen and XXXbathroom walls TilesInterior Works X X X XX XXXWalls Exterior WorksWalls X XX XXX X: Possible useXX : Recommended useXXX: Ideal for this application.
To correctly apply the previously mentioned varnishes, consult the Fact Sheets. If using POLYURETHANES, apply an initial layer of the most sealant finish (Acripol Gloss Varnish) as a FIXER. To do this, dilute the product between 40-100% according to the porousness of the base, then top with the desired finish: Matte, Satin or Gloss. For water-based varnishes, prior to their application seal the surface with Fijamont Acqua diluted by 50% to avoid crazing and unaesthetic cavities.
Polyurethane varnishes are recommended for high-transit flooring and on surfaces in direct contact with water (inside showers). For these uses, first apply the finish that seals best (Acripol Gloss varnish) and then end with the desired finish: Matt, Satin or Gloss.
The Acripol range of polyurethanes are solvent-based, and if they are to be used indoors, safety standards must be followed and the corresponding PPE (personal protective equipment) must be worn.
The Microcement Varnish Range is developed specifically as a system finish under normal conditions, it is water-based and provides a strong and decorative finish.
We do not recommend the use of products not tested or suggested in this system as we cannot guarantee the result.
Colour Product that can be coloured using the Montomix Tintometric System. The colour is added to the Microcement Resin, which will be mixed onsite with Microcement Finish. You do not need to colour Microcement Base. The system is optimised to reproduce the colours on the chart, mixing the specified amounts of Microcement Finish + Microcement Resin. Altering the amounts of colouring stated in the formula is not recommended.
The varnish selected has a considerable impact on the intensity of the colour. Making colours other than those described in our Tintometric System is not recommended.
Montó Microcement Finish is not recommended for base surfaces that contain water such as swimming pools, tanks or baths.

Soporte Nuevo:
There are four steps in the Microcement System: 1. Primer: Acts as an Adherence Enhancer 2. Microcement Base + Resin: To smooth out the base surface 3. Microcement Finish + Resin: To achieve the desired effect 4. Varnish: To seal the Microcement.
A primer will not need to be applied in those cases where the base surface has open pores and has total adhesion.
The Microcement Base will not need to be applied in those cases where the base surface does not need to be smoothed out.
Steps 3 and 4 are always required. For smooth base surfaces in good condition, such as cement, concrete, resins or vertical walls, sand gently and then vacuum the dust produced. Restauracion y Mantenimineto:
For concrete, cement and resin floors in bad condition as well as for application onto tiles, you must first apply Microcement Base, following the steps in the relevant technical data sheet.

I´m interested in this product
I´m interested in this product
Confirm the product and your contact information to be able to inform you and advise you in a personalized way.
Readily available stock
Gestión automatizada de las ubicaciones y las existencias de los productos.
Perfect orders
Los pedidos son preparados mediante radiofrecuencia reduciendo los errores en su preparación a 0.
Warehouse management
Ubicación automática de los productos en el almacén mediantes transelevador.
Fast loading
8 loading docks for 24-ton trucks.
Our own transport
Flota propia de camiones de reparto preparados para transporte ADR.
We are always close by
Cadena de tiendas propia y suministro a puntos de venta en toda España.
This color contains a special formulation that reduces the accumulation of heat in the façade by between 4 and 12 degrees, allowing for improved thermal comfort, increased energy savings and the durability of the cladding.
liter calculator
Para pintar m2 de superficie con mano(s) de pintura necesitas:
de MICROCEMENTO ACABADO Matt