WHAT IS MICROCEMENT AND WHAT ARE ITS MAIN DECORATIVE USES
Microcement is a composite material composed of cement, resins, additives and mineral pigments with which different shades can be achieved. Thanks to its application that is done by hand, a unique finish is achieved, so no two surfaces are the same!
What are the main uses of the microcement system? Given its possibilities for both indoor and outdoor application, it is an ideal product for decorating walls and floors, but also for furniture to which you want to give add a contemporary touch.
o   Walls and floors: not requiring the use of joins in the application of the product provides continuity, creating a greater feeling of spaciousness. In addition, it offers perfect balance when combined with traditional decorative elements such as wood, glass or natural fibres. Its extraordinary adhesion to practically all surfaces makes the microcement system ideal also for bathrooms and kitchens, where there is no need to remove old tiles so their waterproofing and resistance contributes to provide maximum efficiency.
o   Outdoor furniture: Benches, planters or stairs can be covered with microcement thanks to its great decorative finish and excellent durability.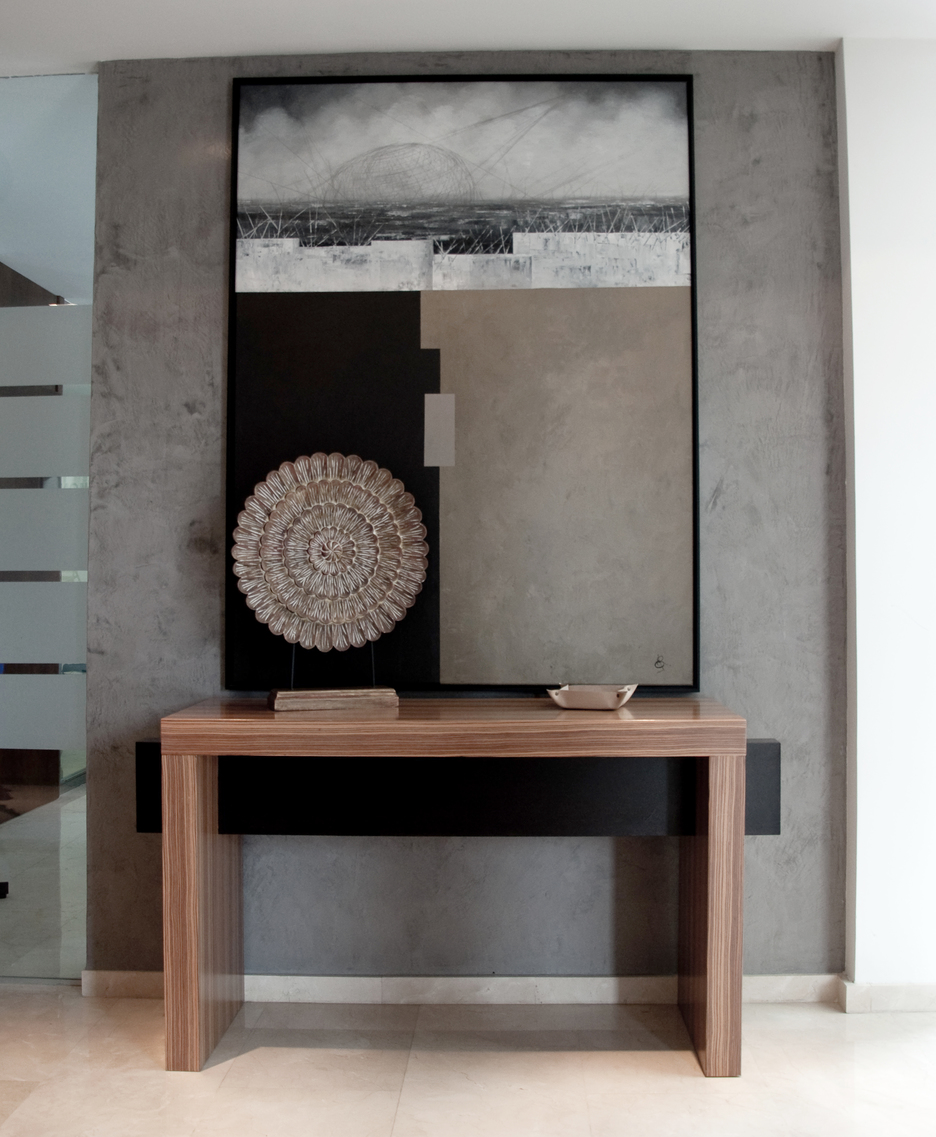 BENEFITS OF THE MICROCEMENT SYSTEM
We have already shown you some of the advantages of the microcement system, but let's get to know the rest:
o   No noisy, dusty and dirty building work is necessary for its application.
o   Excellent adhesion to mortar, ceramic, fibrocement, stoneware, wood, terrazzo, plaster, plasterboard etcetera. This means that there is no need to remove the old material.
o   Its 2 to 3 mm thickness does not affect the structural load of the building, nor does it require the lowering of doors.
o   Easy maintenance as it can be cleaned with water and neutral soap.
o   Long life and resistance to high temperatures, traffic and wear and tear.
o   Waterproofing, which as we have already mentioned, makes it ideal for bathrooms and kitchens, as well as outdoors.
o   Unique finish thanks to its application by hand. Also, it won't crack.
HOW TO APPLY THE MICROCEMENT COATING
Its ease of application means that only a few easy steps are required to get unique finishes with Pinturas Montó products:
1. If the surface has to be evened out, it will be necessary to apply Microcemento fondowith its corresponding primer depending on the surface. For floors and on tiled walls, a microcement mesh reinforcement should be used.
2. Apply a first coat of Microcemento acabado, creating a layer about 0.2 mm thick.
3. Allow to dry for one to two hours depending on the ambient temperature, and if the surface is imperfect, sand it gently.
4. Apply the following coats with a similar thickness until the desired effect is achieved. Depending on the pressure and the movements of the trowel, different aesthetic finishes will be obtained.
5. Once the surface is well dry, and after approximately 24 hours, the treated surface can be sanded.
6.  After choosing the finishing varnish -Barniz microcemento brillo, Barniz microcemento satinado or Barniz microcemento mate- it is recommended to apply two coats with a roller for a perfect finish.
7.  Result: a smooth and exclusive touch of high performance.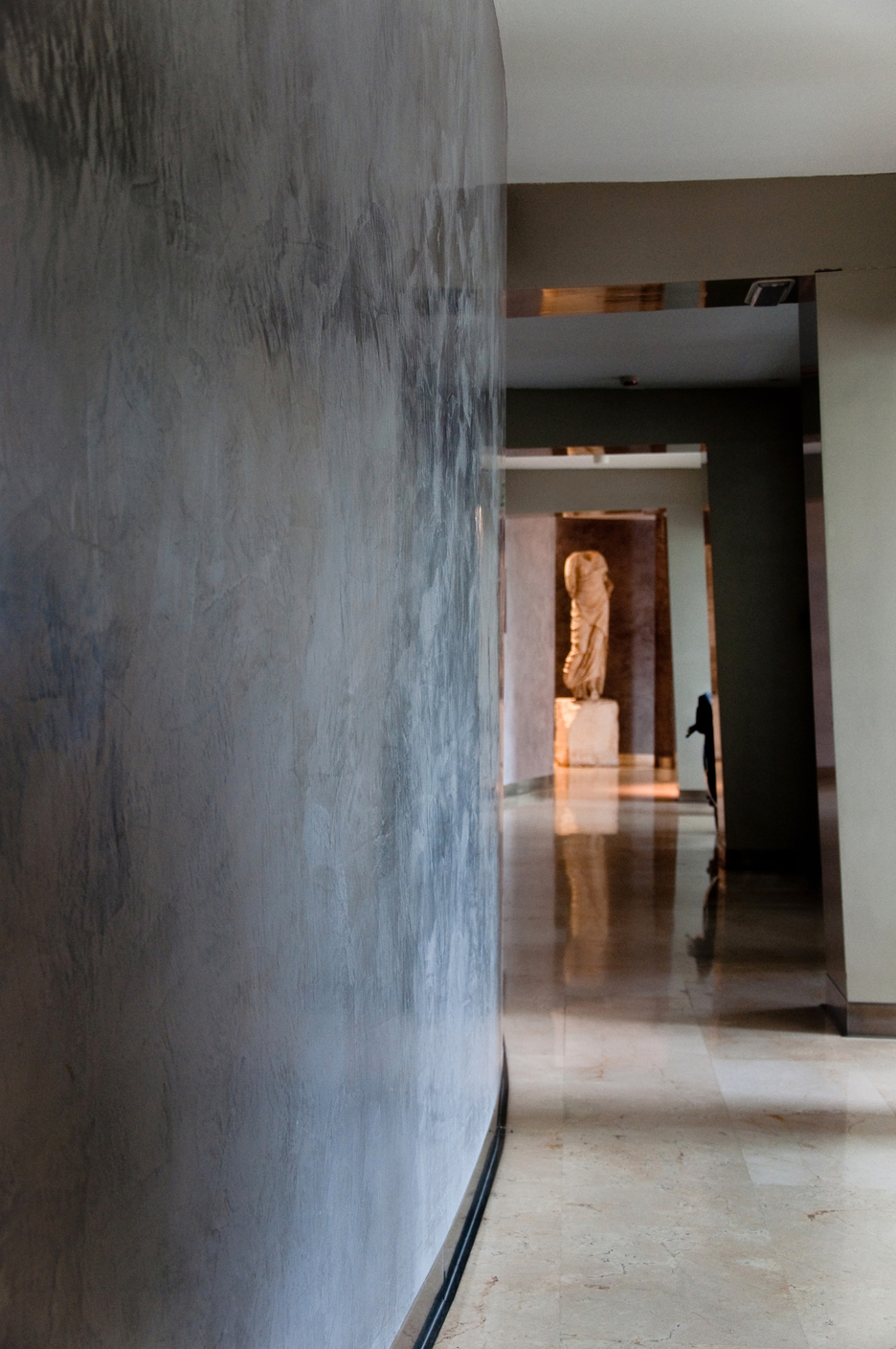 Recommendations when applying finished Microcemento acabado
In addition to the simple steps for its application, it is important to follow some tips, such as that the ideal temperature to carry out the work is between 5 and 30º, these conditions should be maintained for the first 72 hours after the treatment. If applied at temperatures above 35º, the product can dry out quickly.
In this sense, if the finished Microcemento is very hot due to direct sunlight, it can cause problems including loss of workability and premature setting.
In addition, it is recommended that you apply the product with a steel trowelin thin layers no more than 0.2 mm thick. In addition, if you are going to use very light colours, or white, it is more advisable to use plastic or rubber trowels.
Variety of colours
The Pinturas Montó microcement system is optimised to reproduce the colours of the montomix Tintometric System chart. These range from soft creams, pinks, earths, blues, greens or greys, to more intense ones such as browns, yellows or almost blacks. However, it should be noted that the selected varnish noticeably influences the colour intensity.
If you want to know more about the Pinturas Montó Microcement System to get an exclusive and modern finish that is fast becoming a trend as a decorative coating, please contact our Customer Serviceteam and we'll be happy to help you with anything you need!